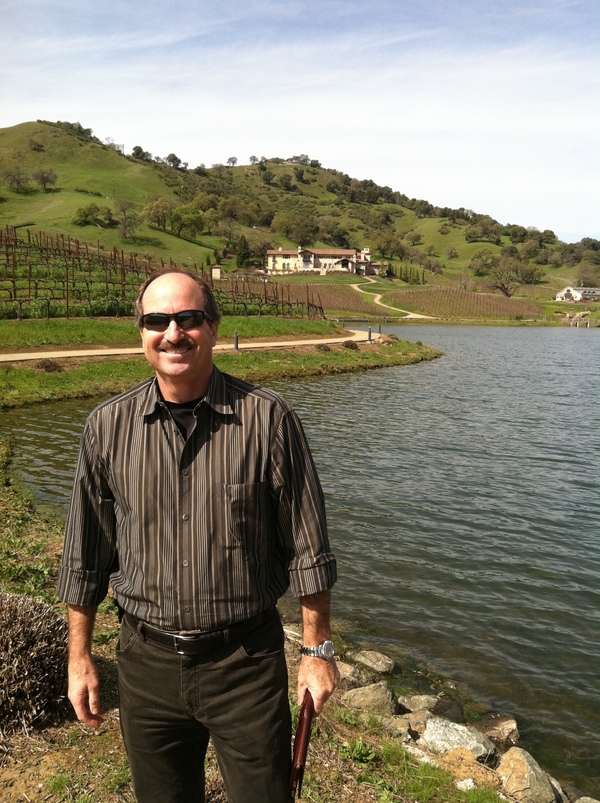 Yes, that's yours truly, posing at the Hestan Estates earlier this year. Wonderful place!
Wine ratings are an interesting thing. For example, take the 2006 'Meyer Vineyard' cabernet sauvignon produced by Hestan Vineyards. 'Wine Spectator' magazine gave this wine a rating of 89. Not bad. There's nothing wrong with an 89. Except 90, 91, 92, etc are all higher. And, clearly, while a rating is completely subjective - the opinion of the rater alone - we all have the right to agree or disagree. So, after tasting this wine, do you agree?
The wine maker describes the wine this way:
"Our 2006 Meyer Cabernet Sauvignon is smooth, rich and creamy at the start, with spicy blackberry, black cherry and wild berry fruit that's well-centered, picking up subtle hints of anise and mocha. The wine teases you on the finish with a burst of fruit."
I agree. I pick up a little more chocolate than mocha, but overall, I agree. What I don't agree with is the 'Wine Spectator' rating. In my humble opinion, it's too low. If pressed, I would have guessed the wine rated in the low 90s. Granted, I might be swayed by the amazing retail price: only $45 for this cabernet. I think the wine can easily stand up against cabs that retail for twice this amount.
This wine epitomizes the Two Masters vision: Where price and quality coincide to bring a great value to you. I believe the 2006 Meyer cab does exactly that. Please let me know if you agree - or disagree! Remember, only important with wine is that YOU enjoy the wine you're drinking. The rating is truly secondary to YOUR opinion. Don't be bashful...let us know what you think!
Thanks.
Terry Liebman