I just returned from Whistler/Blackcomb. Wine tasting.
OK...not really. Every year, a few friends and business associates travel to a world-class ski area to share some conversation, food, wine and catch-up on the goings-on of the past year or so. On these trips, at least one of the nights, we try to find a local, highly rated steakhouse to taste the local fare and memorable wines. This year it was Hy's Steakhouse in Whistler. And at least one of the wines - a Syrah - was quite memorable. And the picture below shows where the grapes are grown. Recognize the area?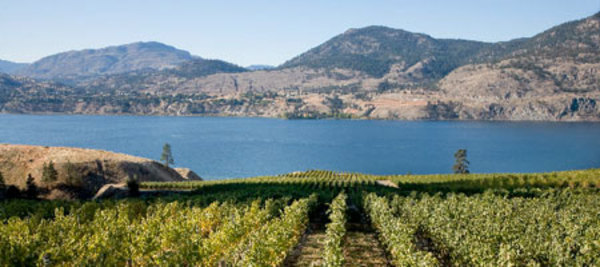 Probably not. This 2009 Syrah was from - are you ready? - CANADA. Yes, Canada. The Okanagan Valley in BC to be more precise. I'm sure many of you have tried Canadian 'Ice Wine' in the past and assumed that's all this frigid landscape could produce. Not any more. The new crop of Canadian winemakers are showing they are in the hunt.
The Okanagan Valley is a small, micro-climate tucked at the very southern edge of BC, just north of Montana. Look up the town of Kelona in BC and you'll find the spot. Its a lovely spot - and if you travel there, you'll find it hard to believe you're in Canada.
The Syrah we sampled is produced by Painted Rock. Feel free to check out their site: www.paintedrock.ca.
I was really impressed with this wine. Aged in both French and American oak, this Syrah had great fruit (tons of blackberry), a lightly spicy mid-pallet, and a great finish. Really, quite nice. We started with the Mission Hill chard (also from the Kelona area). It was a very nice, crisp chard with a great finish as well.
So don't be surprised to see an Okanagan Valley wine pop up in a future Two Masters shipment. They are definitely coming of age and ready to expose to our group. Enjoy!
Terry Liebman