Boy, was I fooled! Just when I thought my wine and Champagne were safe...I find THIS!!! Drunk...gambling...lord knows what else! How could he!?!?! I feel so betrayed!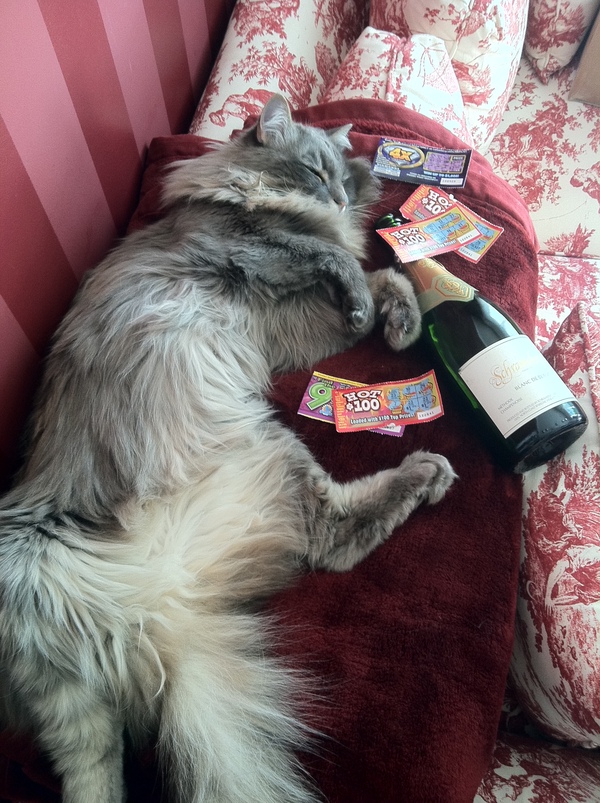 To think I accused my wife, Patti, of secretly drinking all the Schramsberg! I'll bet Bob overheard our arguments, all the while laughing to himself! Knowing, all along, that HE was the culprit!
I didn't think he liked wine...sure, the cheese always disappears when Bob's around. But never the wine...or so I thought. And gambling? Who knew? Sometimes Bob wanders off during the day, returning in the wee hours of the morning. I always suspected he was doing cat-like things...hunting, eating, howling at the moon. Rethinking now, I'll bet he was in a few late night poker games. That might explain the missing cash!
Well, I'm heading to the hardward store to buy a better lock for the wine cellar door. Clearly, I can no longer trust Bob around the good stuff! Have you ever seen a cat like this?
On the bright side, maybe one of the lottery tickets was a winner. Hmmmm......I'll have to check.
Terry Liebman