It's unusual to begin a story at the end, but that's where this one starts.
Our final stop was Frankfurt, Germany. Frankfurt - the financial center of Germany and the EU - really wasn't a popular early choice. None of our well-traveled friends gave the 'thumbs up.' None suggested Frankfurt was a place we must visit. Sure, I was excited to see the European Central Bank (I know - you're jealous!), but Patti was far less enamored.
But we had to drop our car somewhere. Remember, we had a new Mercedes that had to be shipped back home. And Frankfurt was one of the choices. So to Frankfurt we went, dropped the car, and took a cab to the city center. After checking into the hotel, we walked the shopping district. And that's where we stumbled across our last wine festival in Germany. But this wasn't just any wine festival. It was the annual Apple Wine Festival! Yes! Apple Wine! Here's a photo of my lovely wife, Patti, and the apples!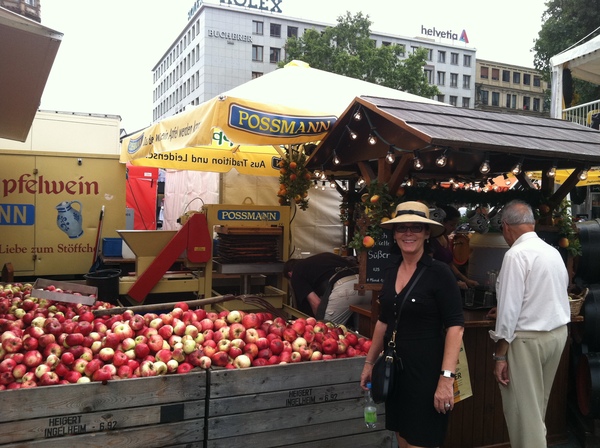 I know what you're thinking. Apple wine? You've got to be kidding!
But, actually, it was rather good. Kind of an apple-ciderish taste. Yummy. Sweet. Pungent. Juicey. Nice! The festival was swinging; the experience, great. And this is typical of our overall wine experience in this entire region: Many of the wines were eclectic, off the beaten path things we'd never try here. So we tried them. Some were quite good. Some were not. But that's the fun of tasting. You taste, you learn, you experience. And that's what we did. Across 1,381 miles.
Next stop on the BLOG tour: We head to the beginning of our trip. On the road from Stuttgart to Baden-Baden. Stay tuned!
Terry Liebman